Written for The Guardian
Popcorn and champagne
This Lady and the Tramp-style pairing might seem strange, but the toasty, buttery goodness of lightly salted popcorn with a well-aged champagne is pure delight. Add truffle butter to pimp your popcorn.
Macaroni cheese and chardonnay
Macaroni cheese is a child's proud favourite, and an adult's guilty pleasure. Ramp up the guilt by pairing your mac and cheese with the smooth, buttery chardonnay.
Oysters and beaujolais
Yes, sauvignon blanc is the go-to pairing for oysters, but does that mean red wine lovers don't get to play? Not anymore. Tread carefully, though. While the tannins of a cabernet sauvignon would send any self-respecting oyster back into its shell, a chilled beaujolais, with its fresh and soft gamay grape, makes a surprisingly delicious partner for oysters.
Mexican tacos and riesling
An age-old rule of wine pairing is match spice with sweet – and that dash of sweetness in an off-dry riesling makes a surprisingly good sidekick to spicy Mexican tacos.
Meat feast pizza and prosecco
Pizza can go with many different wines, but the touch of sweetness in prosecco works wonders with spicy pepperoni.
Sunday roast with sherry
Dad might already have his favourite claret lined up for the family roast, but try asking grandma next time. Sherry is making a comeback and oloroso sherry – with its dry, full body and nutty, zesty and sultana notes – goes perfectly with a roast joint of pork and homemade stuffing.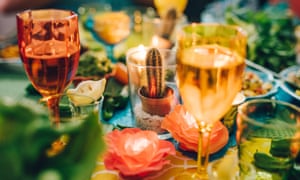 Seared tuna and pinot noir
Tired of trotting out fish with white wine? What about pairing a cool-climate pinot noir with a well-seasoned tuna steak. The subtle spiciness and fresh acidity also cuts through  fatty salmon and works well with a range of marinades or peppery crusts.
Bacon and eggs with bordeaux blends
If you love to eat breakfast at night, keep your corkscrew handy. Eggs are notoriously difficult to pair with wine, but whip up an omelette with smoky bacon, mature cheese and some mushrooms and you've got a dish just begging to be served alongside a smooth, well-aged bordeaux.
Strawberry ice-cream and rosé
Who says you can't drink wine with ice-cream? The light red fruit and berry notes of a fresh, chilled rosé make a perfect summer companion for strawberry ice-cream.
Marmalade sandwiches and sauternes
Paddington Bear didn't often hold court on his love of wines, but I would bet he would agree with this pairing: rich, orange marmalade with the exquisite sweetness of sauternes. It's also a great pairing for homemade marmalade cake and (shop-bought) mini-marmalade cakes covered in chocolate.
See the published article on TheGuardian.com